What We're Doing
Coordinated Entry Shelter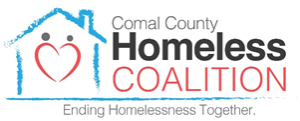 Due to the current COVID pandemic and the risk of COVID infections during the current flu season, steps must be taken to help keep struggling families housed, as well as provide shelter for our unhoused community members. Although the community learned much from a congregate winter shelter pilot last year, such a model cannot be repeated during the current pandemic without risking a substantial spread of infection. Additionally, this model did not reach out to individuals and families who were on the verge of homelessness, only those that were already unhoused.  This year, community nonprofits and churches are working to develop a care program that addresses immediate shelter and basic needs while simultaneously addressing root causes of homelessness.
Who:
Comal County Homeless Coalition– network of nonprofits, churches and individuals who provide services for homeless as well as homelessness prevention throughout the year
NB Housing Partners– local nonprofit organization serving as fiscal and operational agent; their mission is to support affordable, accessible housing opportunities for residents of New Braunfels experiencing housing instability
McKenna Foundation– convenes and empowers local nonprofits to meet community needs
Serve Spot – a coalition of pastors and their congregations united in the effort to live out Christ centered care within the surrounding community of New Braunfels
What:
This collaborative effort seeks to establish and operate a short-term, hotel-based homeless shelter for adults, with the goal of becoming a permanent shelter. The program will include coordinated entry services for all community residents who are at risk of homelessness and/or have recently become unhoused.
New Braunfels Food Bank
NB Housing Partners donated land upon which the San Antonio Food Bank built the New Braunfels Food Bank, a 28,000-sq ft, two-story fulfillment center that provides efficient distribution of food aid to families in need as well as regional non-profit organizations.
In addition to warehouse and distribution space, the facility provides educational opportunities, meeting rooms, and a community garden.